ASOS was an album marked by transition...not only by the line-up change in the band, but also its mix of transitional material. It was regarded as a success and can be put side by side with Dark Side of the Moon as a musical document in the history of the band. For the most part, nobody knew what to expect throughout the duration of the recording sessions. The stress factor was high for all members... the pressure was on Waters to write, and he, Mason and Wright to hold it all together...on David as the 'new boy' on board...on all four to contend with a producer who wanted them to be the next Beatles...and *everyone* had to deal with Syd's unpredictable, impossible, and uncommunicative behavior. They were already increasingly having problems getting booked for gigs.

By the beginning of 1967, LSD had become the drug of choice for Syd. It rapidly became evident that Syd was in trouble, and towards the end of that year an already fragile Syd was beginning to crack. By the time ASOS was begun Syd's mental health and his impending breakdown became uncontainable.
ASOS was an album created in the midst of an upsetting time emotionally for the band as they were forced to confront their old friend Syd's rapidly deteriorating mental condition and estrangement from the band. On the upside, it marked the arrival of David Gilmour, which gave them new musical focus and a crucial boost when they had all fallen into limbo.
In 1968, The Pink Floyd dropped the "The" from their name. Also, same year, the band confirmed that Syd was no longer a member of the band, and that David Gilmour had officially joined.


| | | |
| --- | --- | --- |
| Four Man Floyd | Five Man Floyd | Four Man Floyd |

With ASOS, Pink Floyd became the second EMI act, after the Beatles, to be given permission to hire outside designers for an album jacket. Enter Storm Thorgerson...ASOS was his first Pink Floyd album cover work.

| | |
| --- | --- |
| The ASOS cover consists of 13 superimposed images, including an almost invisible infrared shot of the band themselves-the second to last time the band would appear on the front of their albums. Distorted or unnatural color, like infrared film, a film developed initially for military purposes, (aerial reconnaissance) was first used by Hipgnosis on ASOS to photograph the band. | |
"Marvel Comics, astrology, alchemy, swirling patterns, outer space and infrared weird photography, were thrown together like an immiscible oil and water bubble slide at an early Floyd gig, superimposed upon each other, drifting around in a dreamlike fashion." [Storm Thorgerson]

The 'marbling' effect for the cover was done by John Whitely. He also did the marbling for Storm Thorgerson's book, 'Mind Over Matter'.

On the Ummagumma album cover, the last item, or 'reflection' in the wall is of the cover of ASOS.
| | |
| --- | --- |
| | On the day of the ASOS UK release, Pink Floyd topped the bill at the first free rock concert ever staged at London's Hyde Park. Billed as the opening act of the Blackhills Midsummer High weekend, Pink Floyd opened for Tyrannosaurus Rex in what was later regarded as Pink Floyd's successful re-launch into the British music scene. Pink Floyd's concert was well received by the press as it was by the crowds who attended the show. |
Pink Floyd arrived in New York City on July 4, 1968, expecting to be granted visas and work permits, they ran into some problems. U.S. law regulations state that U.S. work permits can only be granted out of the counry . So Pink Floyd went to Montreal Canada for a few days while the applications were being sorted out and processed. Troubles were not over, en route to their first appearance in Chicago, David Gilmour's guitar was stolen.
Remember A Day may have originally been recorded under the title Sunshine for The Piper At The Gates Of Dawn, but was left off. Sunshine may have been an earlier version of Matilda Mother. Syd plays guitar on this track although recording was finished after his departure.
| | |
| --- | --- |
| Earliest appearance of title track A Saucerful of Secrets was on a June, 1968 BBC session under the title 'Massed Gadgets of Hercules'. The piece became a mainstay of Pink Floyd's live set with time variations in performances. The title track was divided into four titled parts: | |
a) Something Else,
b) Syncopated Pandemonium,
c) Storm Signal and
d) Celestial Voices


| | |
| --- | --- |
| | But these were not given titles until the live version was released on Ummagumma in 1969. Later copies of that album omitted them. It was also used in the film 'Live At Pompeii'. 'Celestial Voices' was also used in The Man and the The Journey. Until corrected on the remastered CD, David Gilmour's name in his first professional songwriting credit was misspelled...'Gilmore'. The Album ASOS later formed the second part of A Nice Pair, vinyl reissue, alongside The Piper At The Gates Of Dawn. |
Jugband Blues was intended as the follow-up to Pink Floyd's second single, See Emily Play. This is the only track with notable differences between the stereo and mono versions-the latter having more guitar and vocals. It exists in three official versions- UK stereo, the UK mono, and the stereo mix from the Canadian A Nice Pair. The Canadian version of Jugband included a different stereo mix, unknown elsewhere. Whether or not Syd was truly aware of his own slide into the abyss, may not ever be known, but, lines like 'Im most obliged to you for making it clear that I'm not here/And I'm wondering who could be writing this song'...could safely be described as the ultimate self-diagnosis on a state of schizophrenia. "Syd knew exactly what was happening to him, but was powerless to stop it. He knew he was going wrong inside." [Andrew King]
For ASOS David used a Selmer 50-watt amp with a 4x12 cabinet and Binson echo unit, with a Telecaster (which was later stolen and replaced with a Stratocaster). Eventually the Selmer amp was replaced with Hi-Watt gear and effects pedals started creeping into his set-up.

The free form middle section of Jugband features the Salvation Army band. Whether by choice or not knowing what else to do with them, Syd wanted them to play whatever they wanted. Norman Smith thought their part should be scored. The two disagreed and it was left that two versions would be recorded. Syd, tired of arguing, left the building, and Smith to finish the track.
Let There Be More Light, could be construed as a 'close encounter of the third kind'....although Roger said he hardly ever read science fiction books. Mildenhall does exist, it is a UK RAF Air station, one of the airfields currently used by the United States Air Forces in Europe. 'Hereward the Wake' was a Saxon rebel who resisted the Normans under Wm. the Conqueror at Ely (according to some legends..there are differences in the several accounts about him). A "wake" has been suggested to mean a watchman or a 'watchful one'. The few live performances include one for September 1968, Tous En Scene, ORTF TV, France.
The See Saw working title was 'The Most Boring Song I've Ever Heard Bar Two'. It was one of Rick's first songwriting attempts that later he considered a learning process...he was never happy with it.
| | |
| --- | --- |
| | Corporal Clegg may have been inspired by the hero of the 1962 film 'Night Creatures'. It was to some reviewers, perceived as an upbeat novelty number, a sarcastic portrait of a war veteran. It foreshadowed Water's future songwriting obsession with war and his bitter inability to deal with the 'establishment' and the loss of his father. The medal mentioned was possibly a Queen's South Africa medal, 1899-1902. It was mainly orange with red stripes on each side, and blue edging to each side. |
In Set the Controls for the Heart of the Sun, Waters admits that the lyrics were ripped off (his own words) from a book of Chinese verse. Seemingly to be cut up and simply rearranged, it was a technique possibly borrowed from author William S. Burroughs. The songs title is also found in one of Mr. Burroughs novels. Live versions can be found on Ummagumma, Dutch video 'Stamping Ground', and 'Live At Pompeii'. It was revamped by Waters for his 'Pros and Cons' tour.




Quotes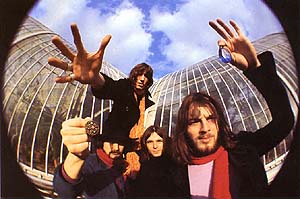 "Much of it reflects a concern with the science fiction other- world. The very long title track is typical, with menacing organ chords overlaid by rustling glass and metal and creature noises. But super-imposed in yet another dimension throughout the record are susurant voices, and hypnotic snatches of melodies, often arabic in flavour, so that the effect is both worldly and other-worldly. Though there is some monotony, this is experimentalism within a structure." -Derek Jewell Jazz/Pop
"We had to start the ball rolling again. "A Saucerful of Secrets" was the start back on the road to some kind of return. It was the album we began building from." -D. Gilmour
"We've really only recorded three tracks with science-fiction references-'Astronomy Domine', 'Set the Controls', and 'Let There Be More Light'." -R. Waters "'A Saucerful of Secrets' allowed you to think of anything that you wanted and because it had echo, people thought it was science-fiction, but it could be anything." -R. Waters
"I did the title track and I remember Norman saying, 'You just can't do this, it's too long. You have to write three-minute songs'. We were pretty cocky by now and told him, If you don't wanna produce it, just go away. A good attitude I think. The same reason why we'd never play See Emily Play in concert." -R. Wright
"Norman (Smith) worked as an engineer on the Beatles and had seen one of his contemporaries, George Martin, move up to the pinnacle of success by producing the Beatles. That was the route he wanted to take. He tried that out with us and the Pretty Things. One of us was supposed to become the next Beatles. But you know people have their own ideas of how they want to be. Norman was a great teacher in terms of studio techniques, however. We got along very well. But once or twice he just had to accept the fact that we weren't going to do it the way he thought we should." -D. Gilmour
"We all believed it was going to be one of the best things we'd ever put onto record." -R. Wright
"Well, on the middle section of ASOS most of the time the guitar was lying on the studio floor. And I unscrewed one of the legs from a mic stand. I just whizzed one of those up and down the neck-not very subtly." -D. Gilmour
"It contains ideas that were all well ahead of the period, and were very much a route that I think we have followed-like provoking the most extraordinary sounds from a piano by scratching around inside it." -N. Mason
"The title track of 'Saucerful of Secrets' I still think is great. I really love it, it was brilliant. That was the first clue to our direction forwards, from there. If you take 'Saucerful of Secrets', the track 'Atom Heart Mother', then the track 'Echoes' - all lead quite logically towards "Dark Side Of The Moon" and what comes after it." -D. Gilmour
"I don't think I've listened to them [Remember A Day, See Saw], ever since we recorded them. It was a learning process. The lyrics were appalling-terrible-but so were a lot of lyrics in those days." -R. Wright
Re: "Set The Controls For The Heart Of The Sun"- "I managed to get hold of a book of Chinese poetry from the late T'ang period, and I just ripped it off. Except for the title, I've no idea where it came from. It came from... within me." -R. Waters (Karl Dallas identified the title from a book by William S. Burroughs)
"They were pulling their hair out, they decided to bring in another guitarist to complement, so Syd wouldn't have to play guitar and maybe he'd just do the singing. Dave came in and they were a five-piece for about four or five weeks. It got better because Dave was together in what he did. Then the ultimate decision came down that if they were going to survive as a band, Syd would have to go. Now I don't know whether Syd felt it and left, or whether he was asked to. But he left. Dave went through some real heavy stuff for the first few months. Syd would turn up at London gigs and stand in front of the stage looking up at Dave....'That's *my* band.' -Jerry Shirley
"So the band said 'play like Syd Barrett'. -Peter Jenner, speaking about D. Gilmour
"We were friends first, then we picked up guitars later on. I was playing professionally in groups before Syd. He'd know something, I'd know something and we'd swap, as people do in back rooms everywhere." -D. Gilmour
"Yeah, it was fairly obvious that I was brought in to take over from him, at least on stage. It was impossible to gauge his feelings about it. I don't think Syd has opinions as such. The first plan was that I would join and make it a five piece so it would make it easier so that Syd could still be strange but the band would still function. And then the next idea was that Syd would stay home and do writing and be the Brian Wilson elusive character that didn't actually perform with us and the third plan was that he would do nothing at all. And it quickly changed 'round, and it was just....it was *obviously* impossible to carry on working that way." -D. Gilmour
"Not many people would like the sensation of being on a runaway bus with a drunk driver at the wheel. You're quite cross at the same time being frightened. Then, after Syd, Dave was the difference between light and dark. He was absolutely in form and shape and he introduced that into the wilder numbers we'd created. We became far less difficult to enjoy, I think." -N. Mason
"I don't know, maybe if he was left to his own devices, he might just get it together. But it is a tragedy, a great tragedy because the guy was an innovator. One of the three or four greats along with Dylan. Syd was one of the great rock and roll tragedies. He was one of the most talented people and could have given a fantastic amount. He really could write songs and if he had stayed right, could have beaten Ray Davies at his own game.I know though that something is wrong because Syd isn't happy, and that really is the criteria, isn't it? But then it's all part of being a 'legend in your own lifetime'. -D. Gilmour
"Because we're very successful we're very vulnerable to attack and Syd is the weapon that is used to attack us. It makes it all a bit spicy, and that's what sells the papers that the people write for. But its also very easy because none of it's fact, it's all hearsay and none of them *know* anything, and they all just make it up. Somebody makes it up once and the others believe it." -R. Waters
"We can't go on doing clubs and ballrooms. We want a brand new environment." -R. Waters, comment made after the Tour.
(On the possibility of Syd returning to music years ago) "He would have to return to the planet long enough for someone to believe that he's got it in him to actually get through the sessions. And that would just be the first step. The guys really did persevere through those sessions, God! Especially Dave, particularly in light of the way Syd was to him before." -Jerry Shirley
"One of the reasons Syd is still a legend is the James Dean syndrome, that thing of not fulfilling what seems to be your destiny." -N. Mason
"I guess we'll never completely escape from the 'LSD druggy image' we've always had. The thing to do is just keep working." -N. Mason
"But at that time we were nothing like our image. [LSD] -it certainly wasn't on our menu after Syd left. We've never got away from that reputation, though, not to this day." -D. Gilmour
"It's interesting the way a band becomes established with a reputation that quite often has nothing to do with what they're really like." -N. Mason