Meddle
Trivia and Quotes
Meddle was the album which streamlined and established the hallmark of the Floyd's mature style--a dense and colorful weave of actuality sounds, original electronic textures, and more conventional rock instrumentation. It was the record to finally begin to define Pink Floyd, and this largely reflected the input of Dave Gilmour, "the group's most accomplished musician, who was finally beginning to feel at home in PF." [Clive Welham]




Meddle marked the vocal debut of drummer Nick Mason.







It was an auspicious fluke by Rick on the piano that set the tone for the entire project...by hitting a certain note that transfixed his bandmates...the PING! was an accident, the rest is history.

In early live performances of 'Echoes', the lyrics seemed calculated to perpetuate the sci-fi Pink Floyd stereotype, until Roger changed the imagery from outer space to underwater. The opening line 'Planets meeting face to face' became 'Overhead the albatross'.


Return of the Son of Nothing (Echoes) was done early on. Roger's original title for 'Echoes' was 'We Won the Double'. Return of the Son of Nothing was eventually redone and renamed 'Echoes'.





The album cover art remains Storm Thorgerson's least favorite of all Hipgnosis's PF album designs. The band chose it over Storm's original suggestion of a close-up of a baboon's anus. (good choice guys...sorry Storm!)



Seamus, whose lead vocals literally showcased a howling dog, was a contender for Worst Song Ever in PF fanzine polls. "I guess it wasn't really as funny to everyone else as it was to us." Dave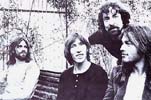 Meddle got a mixed reception from the critics. Rolling Stone and Record Mirror gave it raves...Melody Maker's Michael Watts shrugged it off as 'so much sound and fury signifying nothing'. In response, Nick sent Watts a gift box containing a boxing glove mounted on a spring.



Among the bits and pieces of music that came out of Meddle that were not used on the album, was Roger's 'Brain Damage'-originally titled 'Dark Side of the Moon'.





Meddle Concert Review
'The Floyd are something from a different century - rarely smiling, never speaking to their audience except to put down a request with a weary mincingly English, "We'll never play 'Astronomy Domine' again."
Unreceptive as they may be, the Floyd are undeniably good musicians with a unique style of composition. Their main strength, and their claim to the kingship of psychedelica, is their mastery of electronics - they proved perfectly capable of reproducing the synthetic soundstorms and whispery sibilant, echoing vocals that characterizes their albums in concert. In fact, they actually surpassed their studio work by employing a quadraphonic sound system that, piloted by the organist with a modified joystick control, could seemingly place the group's sound effects anywhere in the theater.
The illusion of movement was sufficiently astonishing that anyone attending the concert drugged must have gotten a far bigger dose of psychedelica than he had bargained for. The magnificent six-ton sound system that accomplished this - the stage was piled ten feet high with amplifiers, while more equipment was set up in the balcony - was also quite sufficient to fill a hall the size of, say, the Spectrum.
In McCarter, it was literally painfully loud, and I must admit that sheer volume drove me out halfway through a concert that I was otherwise enjoying very much.
(Daily Princeton)



This was no ordinary rock show - it was the closest thing that rock music has to show in the way of avant-garde music. Even apart from the strange opening - in which a fellow gifted as magician, juggler and fire-eater, breathed forth flame so a white robed lady could light her cigarette - there were other novelties in the Pink Floyd show at Lisner Auditorium last night.
Echo and reverberation units, time delivery devices, synthesizers and taped sound segments were all part of the act played into a 32 channel mixing panel that relayed the joy into a public address system completely encircling the audience. Any given instrument by these means could be "placed" at any position in the hall and could be mixed with all kinds of taped wonders such as chirping birds and High Volume "white" noise they did not worry to much with the usual content of music.
When they sang, the vocals were not important as words with meanings but rather as aspects of an exciting tension that you could hear in the process of creation. Form and content were replaced by dynamics. The band sounded sometimes like a screaming saw, sometimes like a fleet of intergalactic jets. A guitar, with this group, became a screeching bird. Drums were explosions. "Set the Controls" as they sang "For The Heart Of The Sun."
( Washington Post)





Quotes

"We did the whole lot in the studio in January and we've got 36 things down in all-under the working title of 'Nothing-Parts One to Thirty-Six', but then we never know what an album will be called or what it will sound like right up until the finish.... in the case of San Tropez Roger came in and the song was absolutely complete. There was almost no arranging to do on it. It was just a matter of learning the chords." - Dave
"Possibly the most interesting thing about 'One of These Days' is that it actually stars myself as vocalist, for the first time on any of our records that actually got to the public. It's a rather startling performance involving the use of a high voice and slowed down tape." - Nick
"We did all sorts of strange things you know for live concerts as well, we used to make up tapes for the audience to come in by. We had one half-hour long tape, which we'd play for the half an hour the audience was coming in just before we started our show, and things like that. Just tapes of bird noises in quad--quadraphonic sound, you know, with birds singing, and pheasants taking off in the distance, and swans taking off from water, a tractor driving down one side of the room, and an airplane going over the top, and all these things carrying on, all just from just different sound effects records, you just stick them in and you--you create a type of mood." - Dave
"Atom Heart Mother and Meddle are half good. I like 'Atom Heart Mother' and 'Echoes' themselves, but we made a right mess of it on the other sides." - Roger
"I was lucky to have a very broad base of stuff that the radio played and my parents played and my friends liked. It went through very wide spheres of folk music to show music to old acoustic blues - Leadbelly, Bill Broonzy." - Dave
"Meddle is really the album where all four of us were finding our feet -the way we wanted Pink Floyd to be, although our two previous albums, Ummagumma and Atom Heart Mother had some pointers to where we would finally go, they just aren't as important." - Dave
"Meddle was the first real Pink Floyd album, it set a tempo, a feel and style that we liked, and it introduced the idea of the theme that can be returned to. It sounds a bit ham-fisted now, but the concept thing I like." - Nick
"We did loads of bits of demos which we then pieced together, and for the first time, it worked. This album was a clear forerunner for Dark Side Of The Moon, the point when we first got our focus." - Dave
"We spent a long time starting the record. We'd worked through the Sounds Of Household Objects project, which we never finished. The idea was always to create a continuous piece of music that went through various moods and this was the album that established that. Rick was the guy who got it off the ground with that one note at the beginning." - Nick
"I was playing around on the piano in the studio but it was actually Roger who said, would it be possible to put that note through a microphone and then through the Leslie? That's what started it. That's how all the best Floyd tracks start, I believe." - Rick